Lamia Hīragi
Kanji
ラミア・ヒラギ
Rōmaji
Ramia Hiragi
Alias
Ice Princess
Personal Information
Status
Active
Age
15
Gender
Female
Height
4'11
Weight
34kg ( 74.9571691lbs)
Family
*Isla Hīragi (mother)
Partner(s)
None
Previous Partner(s)
None
Cuisine Style
Gentle, Soothing, Relaxing, and Filling Food
Food Forte
*Cultural Dishes

Pastries/Decadent Desserts

Professional Status
Generation
93rd
Occupation
Chef (currently)
Affiliation
Restaurant Yukihira (former)

Tōtsuki Culinary Academy (Polar Star Dormitory)

Elite Ten Council: 1st Seat

Previous Affiliation
None
Media
Manga Debut
Chapter 1 (Next Generation)
Anime Debut
Episode 1 (Next Generation)
Voice Actor
"
Father this is edible next time it`d better be more edible!
"

—Lamia Hīragi
Lamia Hīragi (ラミア・ヒラギ, Ramia Hiragi) is the main protagonist of Shokugeki no Soma II. She is the eldest daughter of Isla Hīragi and Erent Hallows. She is a 100 Tōtsuki Generation student and a resident of the Polar Star Dormitory. She is currently the 1st Seat of the Elite Ten Council.
Appearance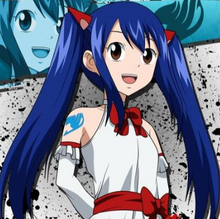 Lamia is a petite young girl with fair skin, brown eyes and long, dark blue hair that reaches down to her waist, which she wears in pigtails held together by two animal ear-like attachments and two strands of hair framing her face which reach down to her chest. In chapter one of Shokugeki no Soma II, she is described as wearing a green, sleeveless flowing dress with a triangular pattern near the top (the top triangle is light-blue, the middle is light-green, and the bottom triangle is light-yellow with white lining) and a crossing pattern around the rest of the dress held by a small yellow ring connecting the top of her dress around her neck, exposing her upper bareback. Additionally to polish the rest of her outfit off, she wears a  yellow thick band around each of her biceps and a pair of red, ankle-tied sandals at her feet. While swimming, she wears a dark green bikini with a laced skirt, light-tan sandals, and ties her hand back in a long ponytail. Compared to some of her classmates, Lamia dresses in high-end clothing and is commented on having a beautiful figure by Megumi Tadokoro and Takumi`s daughter Isla Tadokoro.
Personality
Described as dry-humored and cold to the core, Lamia is a apathetic person with no regards to other people contrary to how she was raised by her parents. Underneath her cold interior is a hurting girl that saw how her mother was hurt by her own father and as such she became apathetic and cold much like how her mother once was as a student at the Tōtsuki Culinary Academy.
Community content is available under
CC-BY-SA
unless otherwise noted.