About Shokugeki no Soma Fanon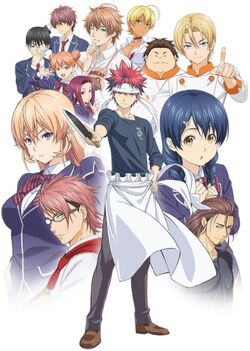 Shokugeki no Soma (食戟のソーマ Shokugeki no Sōma) is a manga written by Yūto Tsukuda and illustrated by Shun Saeki in collaboration with Yuki Morisaki, a famous chef. Following the life of main character Sōma Yukihara, the son of the acclaimed chef Jōichirō Yukihira, as he attends the infamous culinary school: Tōtsuki Culinary Academy. In Shokugeki No Soma Fanon, we give those who are interested in the concept of the Shokugeki No Soma series, the chance to create their own characters and stories that revolves around the Shokugeki no Soma universe. As the Fanon site of the series, all characters made here are recommended and highly advised to be original concepts created by users who join, giving users the ability to be as creative as possible that stays within the limits of the Shokugeki no Soma realm.
Students

Teachers

Directors

Factions

Schools

Writing
Community content is available under
CC-BY-SA
unless otherwise noted.